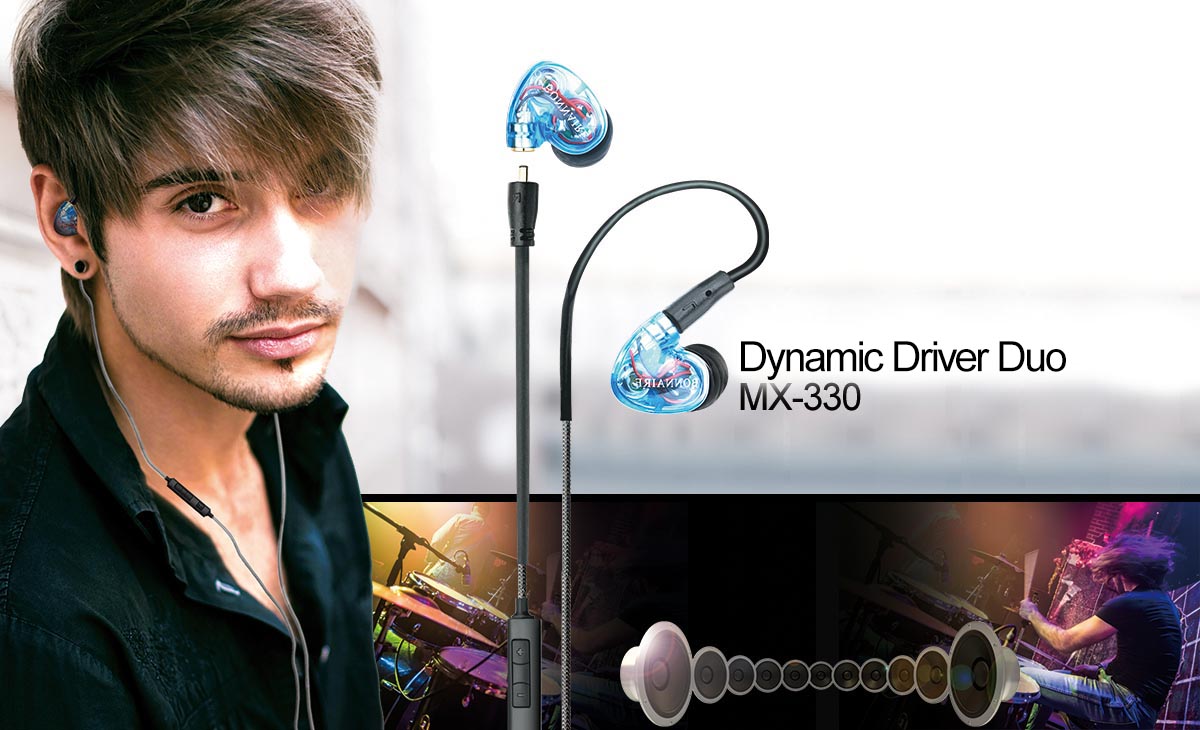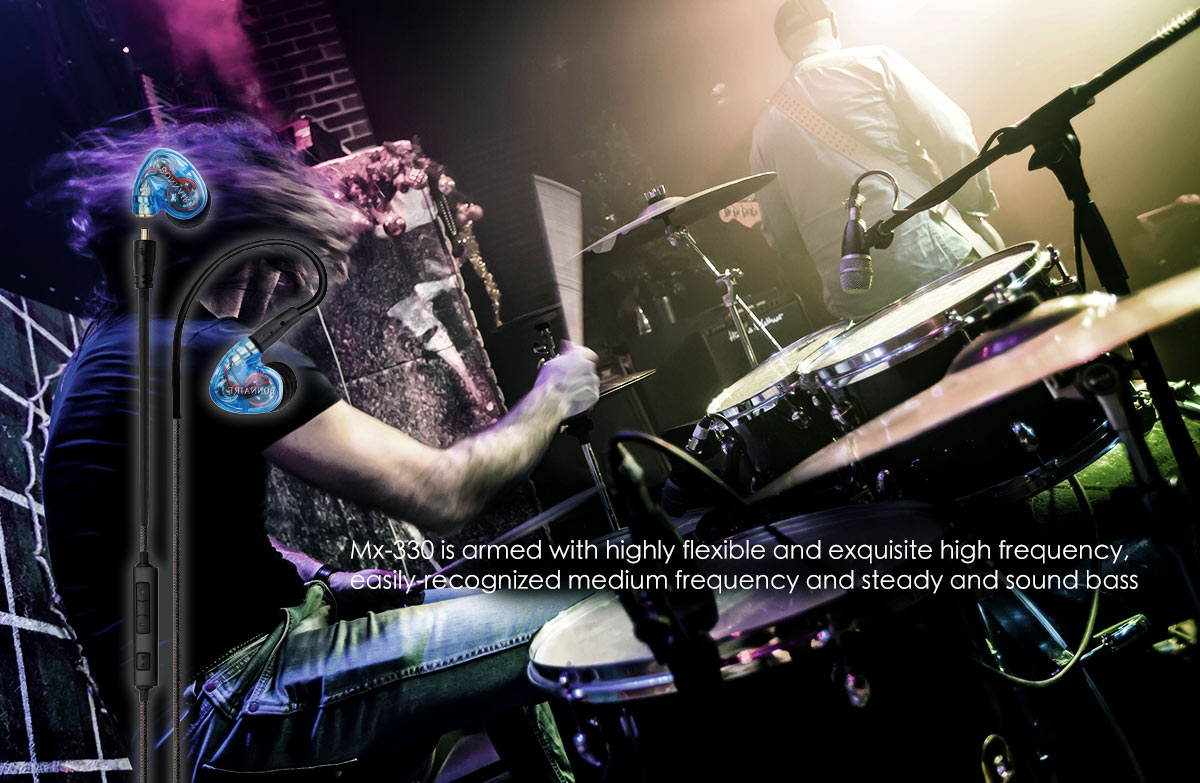 Dual dynamic driver
Unprecedented new experience
The unique design of dual dynamic driver gives us the unprecedented experience: its transit performance is powerful while its loop-back bass is strong, flexible, full and thick.
Perfect all-range performance
Unforgettable experience
As MX-330 is armed with highly flexible and exquisite high frequency, easily-recognized medium frequency and steady and sound bass, its vast and real sound field and perfect all-range performance would serve you with unforgettable experience.

Fashionable and noble
Transparent blue Simple and cool black Transparent red
MX-330 is designed in three colors—transparent blue which is novel and fashionable and simple, cool black which is low-profile and noble, transparent red which is shine, all of which have the unique feature.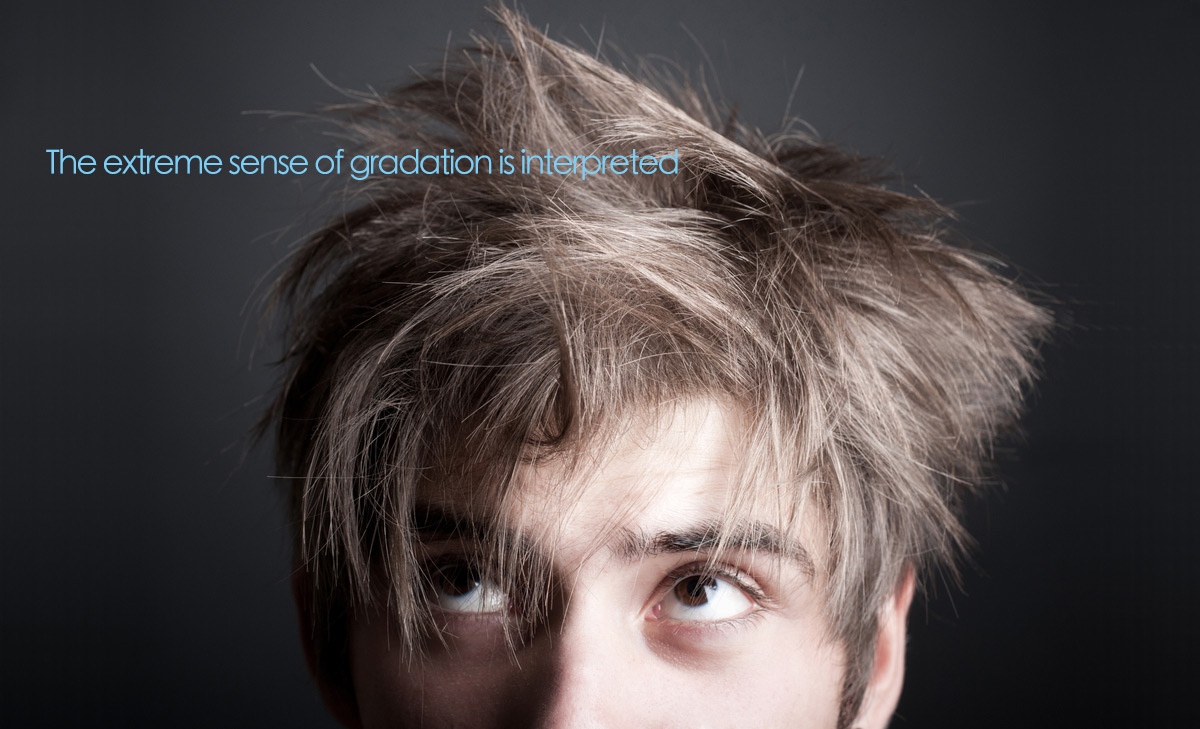 Comfortable and novel
Perfect listening experience
In the design, the ergonomic element is taken into consideration and it is shown by the completely new design of earphone shell which is more close to the cochlea and has better effect of sound insulation. Thus, the wearing experience is elevated to a higher level and you'd feel comfortable even after a long time.
Exchangeable Cable
The design of detachable earphone cables makes it easier to replace the cords,
so that the service life of earphones is greatly prolonged.
Digital Volume Control
New technology
Bonnaire is now devoting to supplying appliance with more new technology. As for MX-330, it serves you with the latest technology—a +/- volume control button and the function fitting in well with both iPhone and Samsung. It is really the new technology and you can use it conveniently by plugging without extra adjustment to any button.
L-Shape Jack
Prolong the service life of cable
The L-shape 3.5mm gold gilded jack can effectively reduce the cases of poor contact due to bending of cables,
and in the mean time can prolong the service life of cables.
Star-level accessories
Portable
The soft earphone bag is sent with every BONNAIRE MX-330 and it is portable. At the same time, the earphone bag can effectively protect the earphones and wires from damage resulting from squeezing. Only you can enjoy the star-level accessories.
SPECIFICATIONS
Ear Coupling : Intra Aural (Ear Canal Fit)
Frequency Range : 19-20,000Hz
THD. Total Harmonic Distortion : <1%
Impedance : 10Ω
Sound Pressure Level SPL : 102dB
Transducer Principle : Dual Dynamic
Microphone Sensitivity : -40dB
Jack Plug : 3.5mm L-shape
Cable Length : 1.1-1.2m Symmetrical
Weight : 18g
Microphone : Designed for Android & iPhone
Volume +/- Control : Compatible with iOS and most Android devices