Double-Queen

Dual Precision in Music and Call
In the world of sport Bluetooth earphones, there is supposed to be a huge gap between music and voice qualities.
However, BONNAIRE, a brand of persistence as always, sticks to the principle of keeping both at high standard.
Apart from a clear voice, there must be a guarantee for the quality of music.
BONNAIRE keeps seeking changes for its users. The impossible eventually becomes a reality.
MX-620, the double-queen, strides to a new era.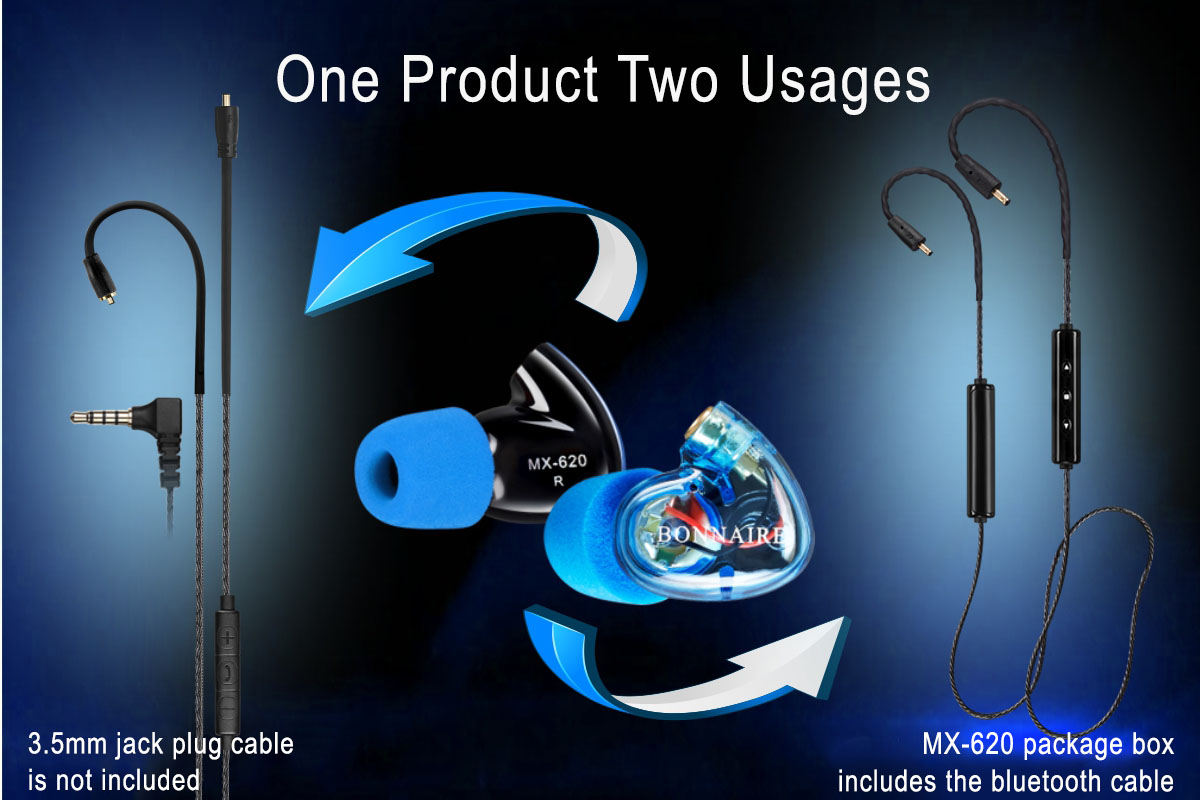 Bluetooth earphones convertible to jack plug mode;
enabling dual styles of usage.
One Product, Two Usages
A dedication to the user's needs
Making intimated and lifestyle-oriented sport earphones.
MX-620 is compatible with 3.5mm jack plug earphone cable.
The innovation makes the wireless convertible to wired,
allowing you non-stop music whenever your player is running.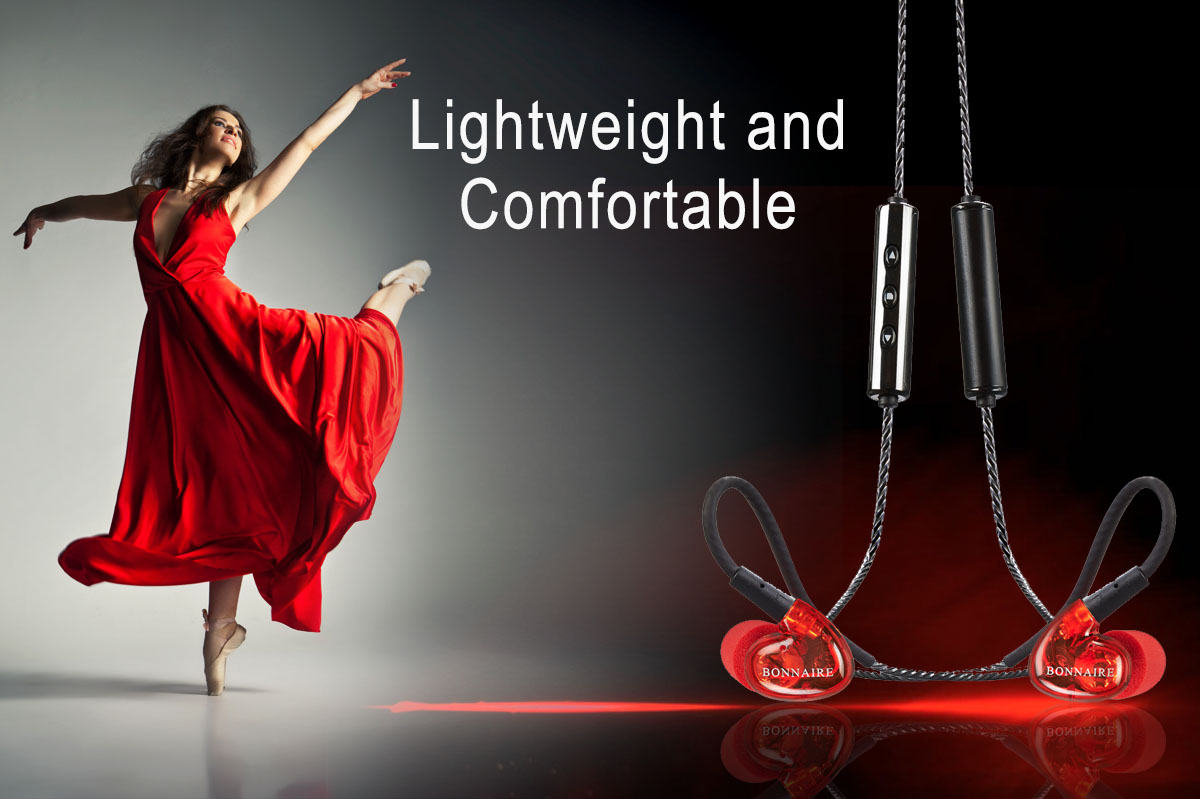 Lightweight and Comfortable
Design with Ergonomic
MX-620 features a unique design that differs from the generic sport Bluetooth earphones.
As battery is not placed at in-ear portion, letting the earphone mini & light-weight.
And the shape of the earphones is ergonomically designed, fitting well to the ear canals.
Letting you to feel natural and comfortable, fitting for long hour wearing.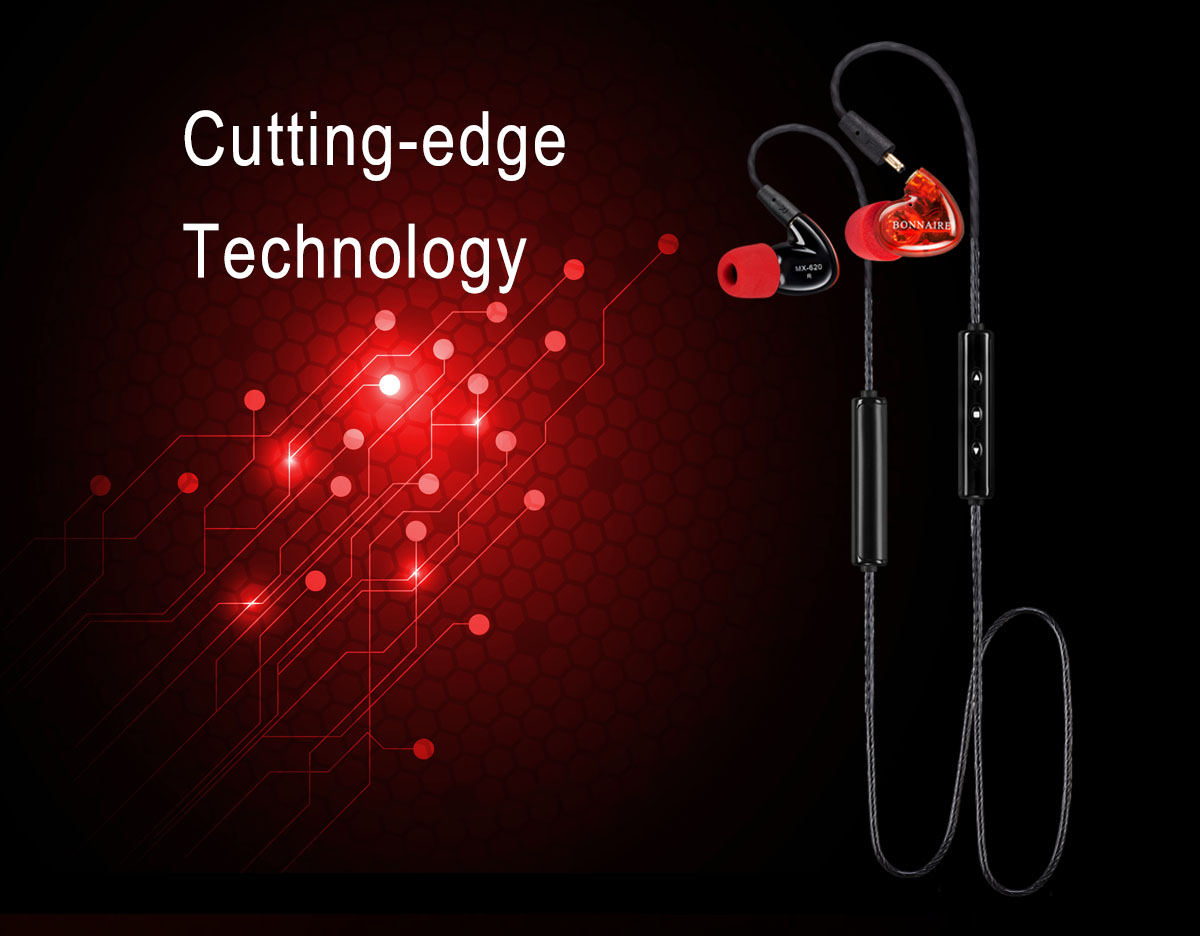 Cutting-edge Technology
Establishing a Double Queen Status
MX-620 adopts Bluetooth version 4.1, which would achieve clear voice calls.
With the brand-new APTX technology, the Bluetooth module is able to beam music
with a nearly lossless quality so that music would achieve a leap in quality.
MX-620 presents all-round impeccable improvements for voice calling and music playing.
Extraordinary Noise Reduction
Outperforming All Counterparts
Continuing to adopt state-of-the-art noise reduction technologies,
exhaustively tested and calibrated by BONNAIRE's professional engineers,
the noise reduction of MX-620 allows voice call to be remarkably crystal clear.
Even in an environment of pandemonium, it can reduce the noise interference substantially.
It presents great pleasant surprise to users for
which majority sport Bluetooth earphones are obviously a far cry from it.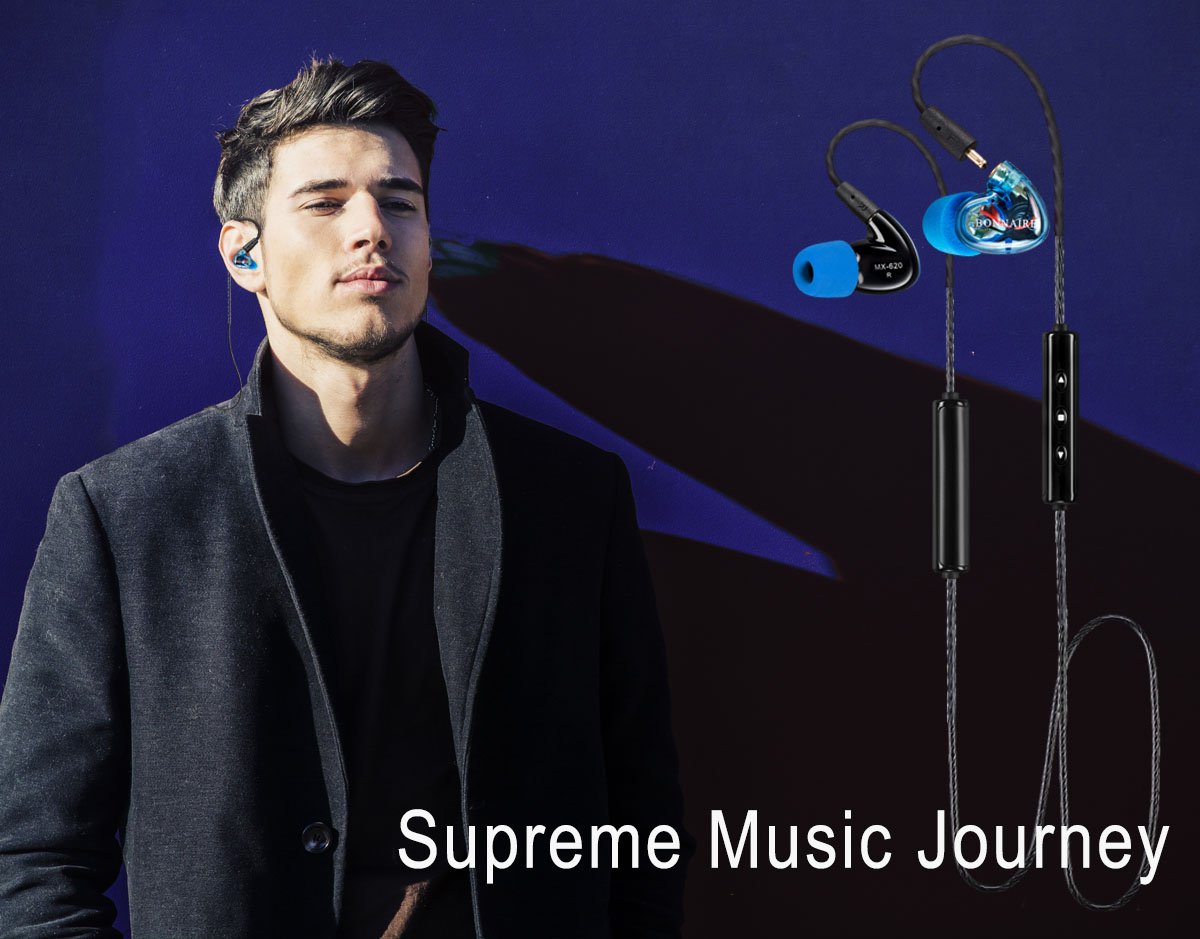 Supreme Music Journey
Accurate reproduction of all the details of the music and delivering outstanding bass driven stereo sound
The highs strike listeners incredibly.
Music is dynamic and vibrant, pleasant and crystal clear.
The deep, rumbling lows resemble as drums,
offering a great music experience of yours.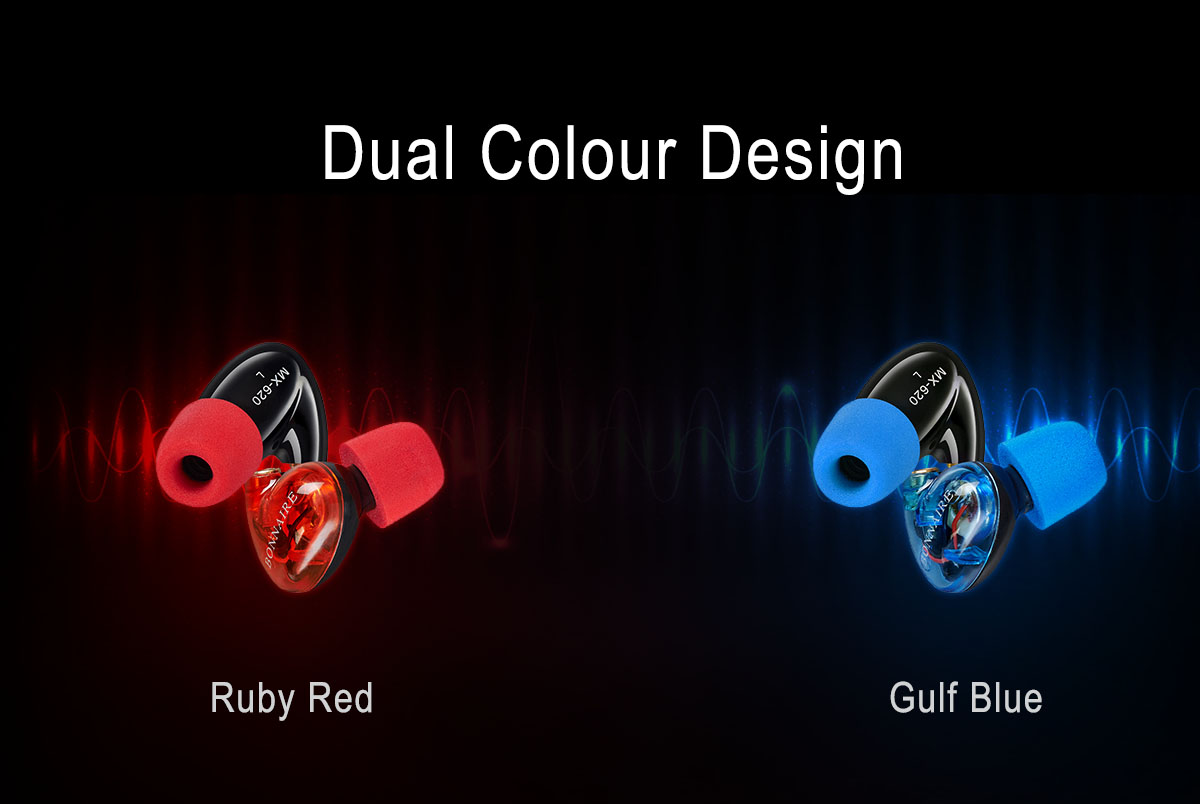 Dual Colour Design,
Complimentary Memory Foam Buds
Ruby Red & Gulf Blue
It is personalized for you, with dual-colour design for the earphones, which opts out from monotonousness.
Blue symbolizes vitality and freedom, while red represents nobility and elegance.
Matching colour by the memory ear foams, giving a brilliant look,
which makes a better noise isolation, and is really cool.
Design for Sport
Comfortable to Ears
Over-the-ear wearing is securely fit, which is good fit at all times including sport moments.
The flexion shaping headphone cable enables to bend to the best fit position of yours,
which is very ideal especially for those sports lovers.
No More Swinging nor Falling
Butterfly Buckle Design
MX-620 is designed for cable convertible, which also enables you to "buckle up" by bending the flexion shaping part of the cable so that it would rest on your chest like a "butterfly-shape" pendant. Swinging nor falling feeling of the pendant will never disturb you. Such trendy design will put you to the fashion top.
Light-weight Battery with Long-lasting Endurance
Continuous Music Playing at Ease
MX-620 is equipped with high density battery in mini size, light-weight, whilst is still high performance.
Music play time lasts up to 6 hours.
It offers long music play hours. Even when you have long hours in sports,
you are always accompanied by this great music companion.
SPECIFICATIONS
Brand : BONNAIRE
Model : MX-620
Colour : Ruby Red; Golf Blue
Bluetooth version : V4.1
Supporting Profiles : APTX/ A2DP/ AVRCP/ HFP/ HSP
Noise Reduction Technology : Proprietary Super Noise Reduction Algorithm
Dual Phone Connection : Yes
Battery Display : Supporting iPhone & Android devices(android devices need to install app)
Camera Shutter : Supporting Android devices via app download
Frequency Spectrum : 2.4GHz
Operating Distance : Up to 10M
Call Waiting : Yes
Voice Dialing : Yes
Reject Call : Yes
Last Call Redial : Yes
Battery Indicator : Yes
Low Battery Alert : Yes
Talk-time/ Music Play-time : ~6hr*
Standby-time : ~180hr*
Nominal Charging Time : ~2hr*
Battery Type : Lithium Polymer
Net Weight : 17g
Length (including the cable) : 895mm
Microphone : Yes
Volume Control : Yes
Box Package : including 1 pair premium memory ear foams,
1 pair bi-flange silicon ear-tip,
3 pairs ergonomic ear-tip in S/M/L,
a high quality earphone pouch
Package size : 110x68x200mm
*Specifications would vary according to user's habit, phone setting, aging of battery and operation mode.