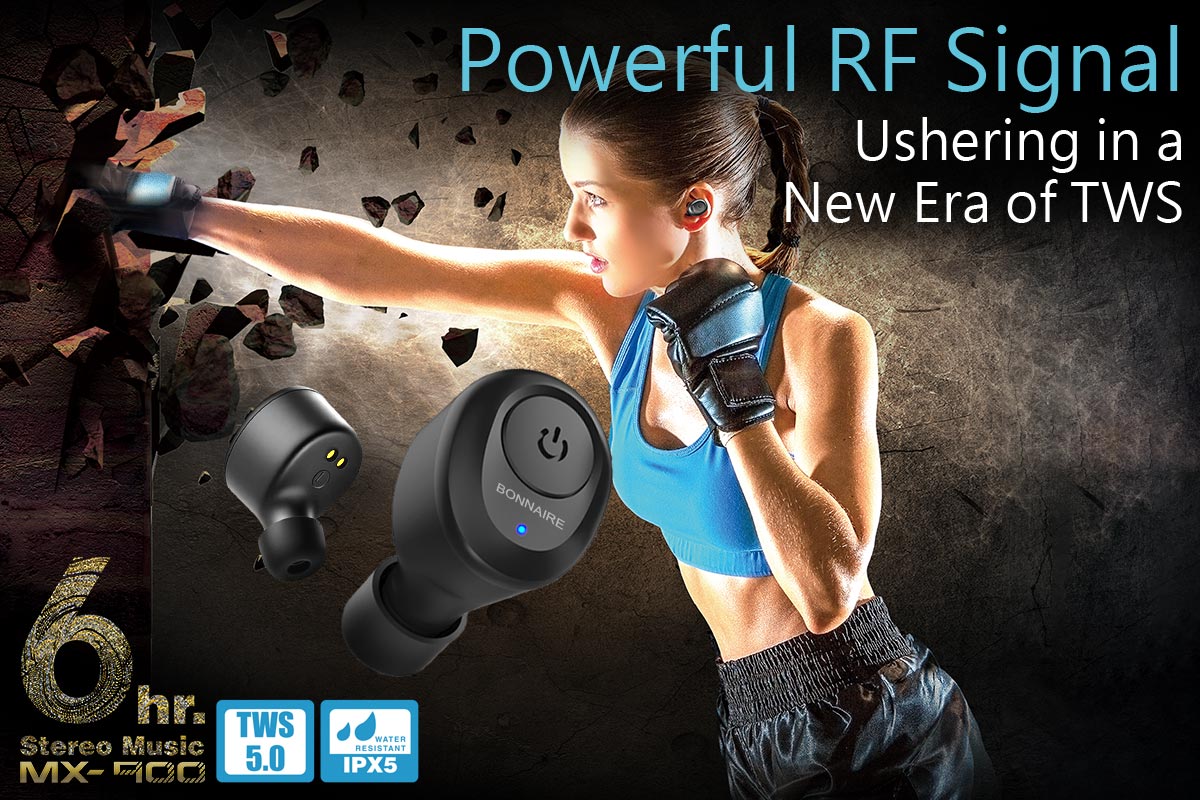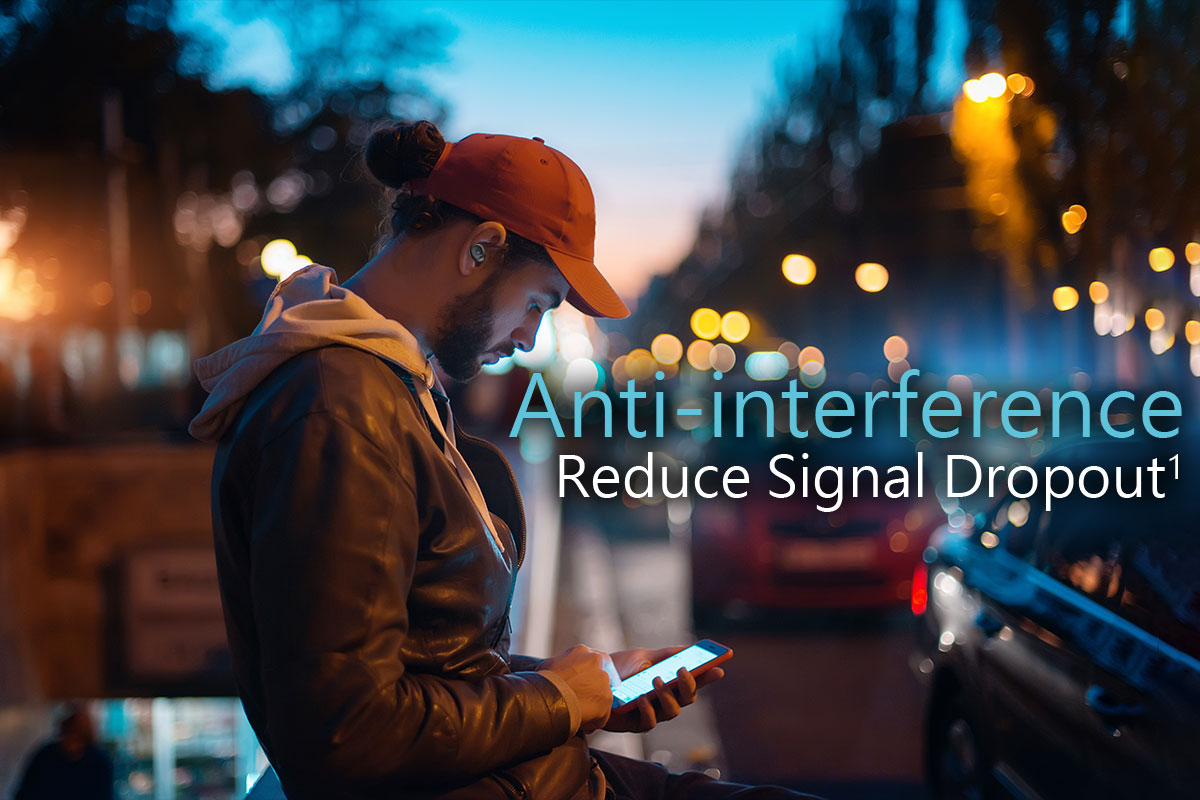 Powerful RF Signal

TWS - A New Era

General TWS poor signal problem include the frequent interference or even signal-off in the outdoor. Through technological breakthrough to strive for excellence, mx-900 is born to usher in a new era of TWS. The anti-interference technology of mx-900 will effectively on one hand reduce the occurrence of disconnection1 and on the other, streamline the user's experience. mx-900 has an extended pairing and connection distance that go up by 40%1A.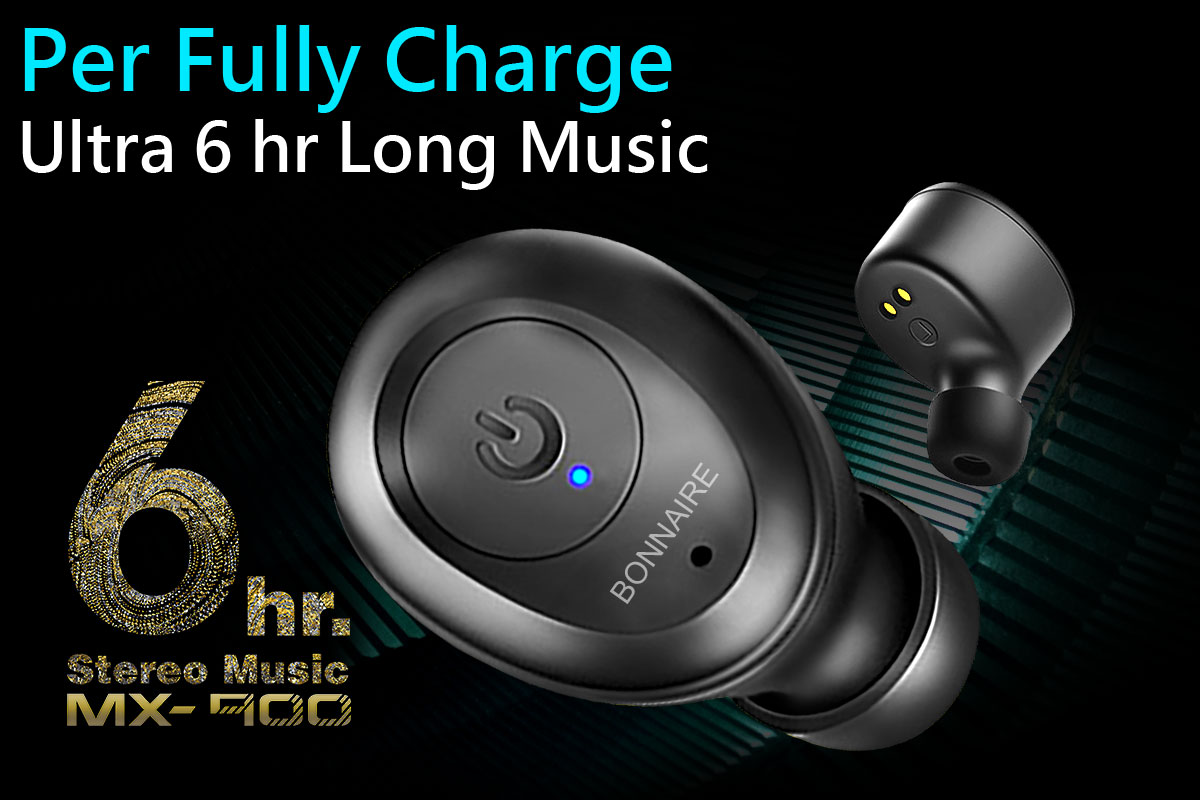 Ultra Long 6 hr. Music Time Enable One-off Watching Multiple Movies

Topping the Music Playback Time2

Generally TWS can only achieve 2 to 3 hours stereo music playback per charge, whilst this unparalleled BONNAIRE mx-900 can record up to 6 hr3A. Lasting endurance is extravagant for watching multiple movies or enjoying long hours of music before next battery charging. The Power-Up case also extends the headset play-time up to 18 hours3. Now, when you listen to your collection, you are hassle-free about the battery run-out.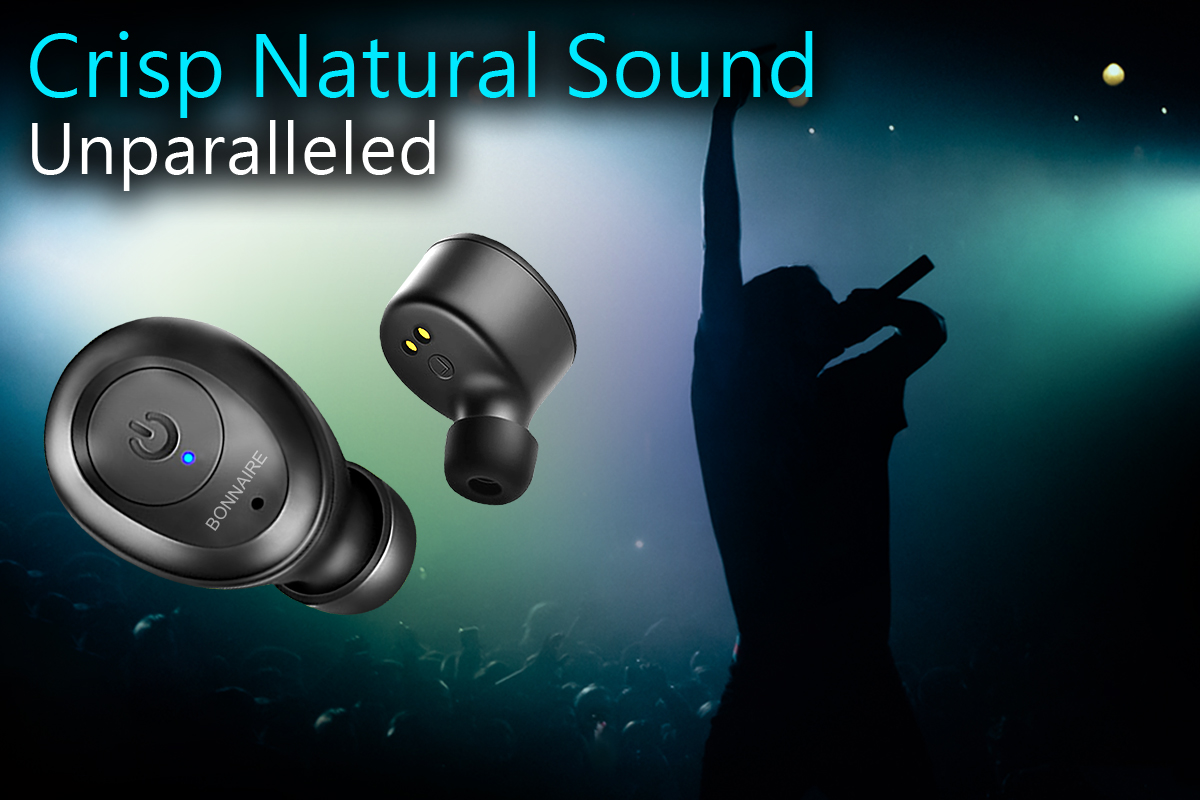 Crisp Natural Sound

Unparalleled

BONNAIRE mx-900 breaks the traditional mediocre music performance of TWS, as it creates deep bass and meticulous natural mids and highs. Despite it is tiny, it delivers great music. Dynamic driver of mx-900 is designed for a wide spectrum of bass, producing stronger rhythmic perception. Its mids and highs are also rich. Resulting in a dedicate three-dimensional vocal voice which you will fondle admiringly.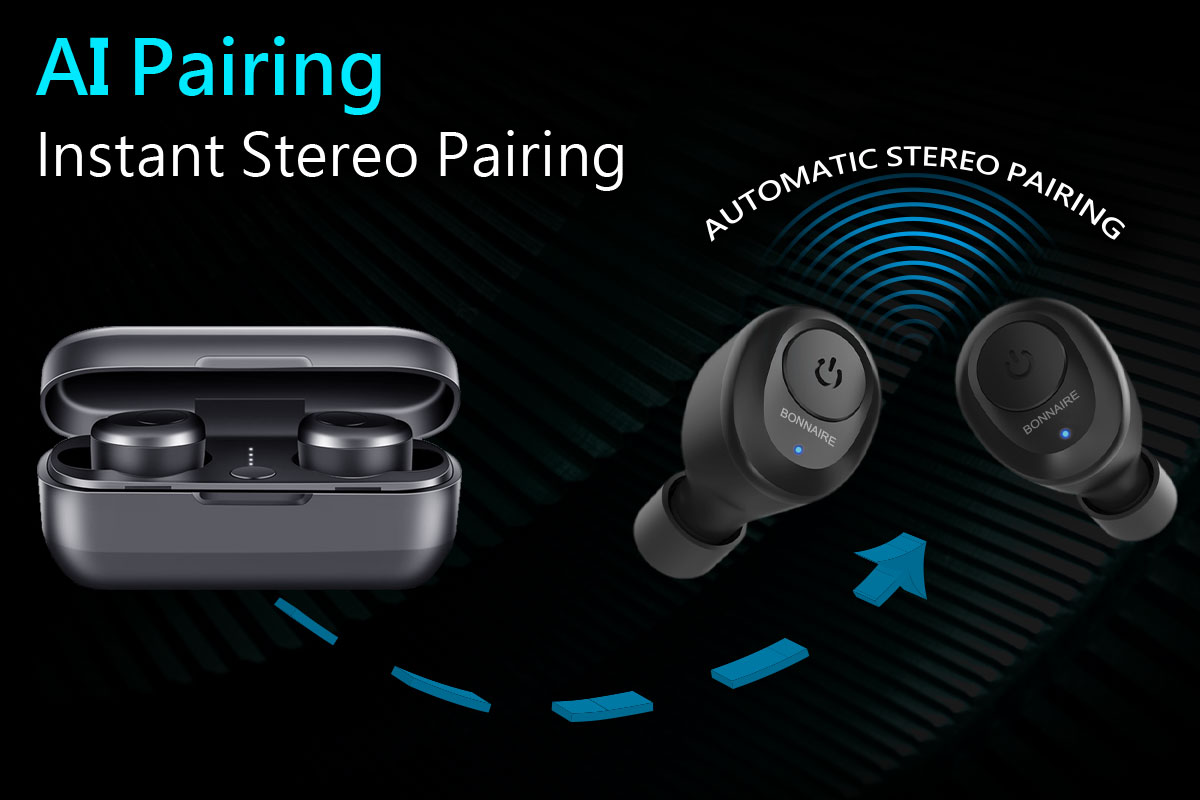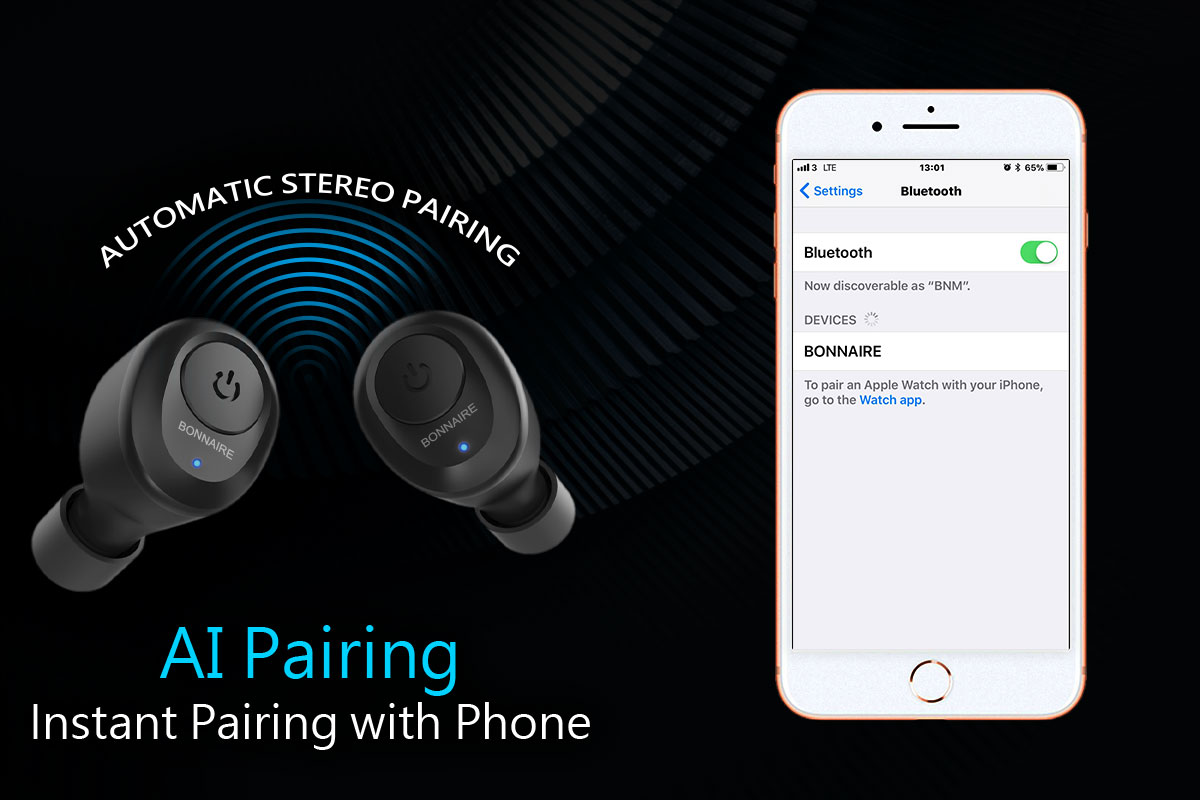 Artificial Intelligence Pairing

Instant & Convenient

General TWS is cumbersome for stereo and phone pairing. BONNAIRE mx-900 is engineered for artificial intelligence pairing. When two earbuds are taking out from the Power-up case, they will be paired automatically to enable stereo sound, and it will immediately pair with your phone after phone has activated bluetooth device searching. When putting them back to the Power-up case, it will automatically disconnect from phone. Once they are picked up again, they will automatically reconnect with phone*. So instant and convenient! mx-900 is also high-performing at mono mode. Simply take out either earbud to enjoy mono music or call. (L side is automatically connected* as it is the master headset by default, while R side would require phone to launch pairing function) * Prior successful pairing between phone and mx-900 is required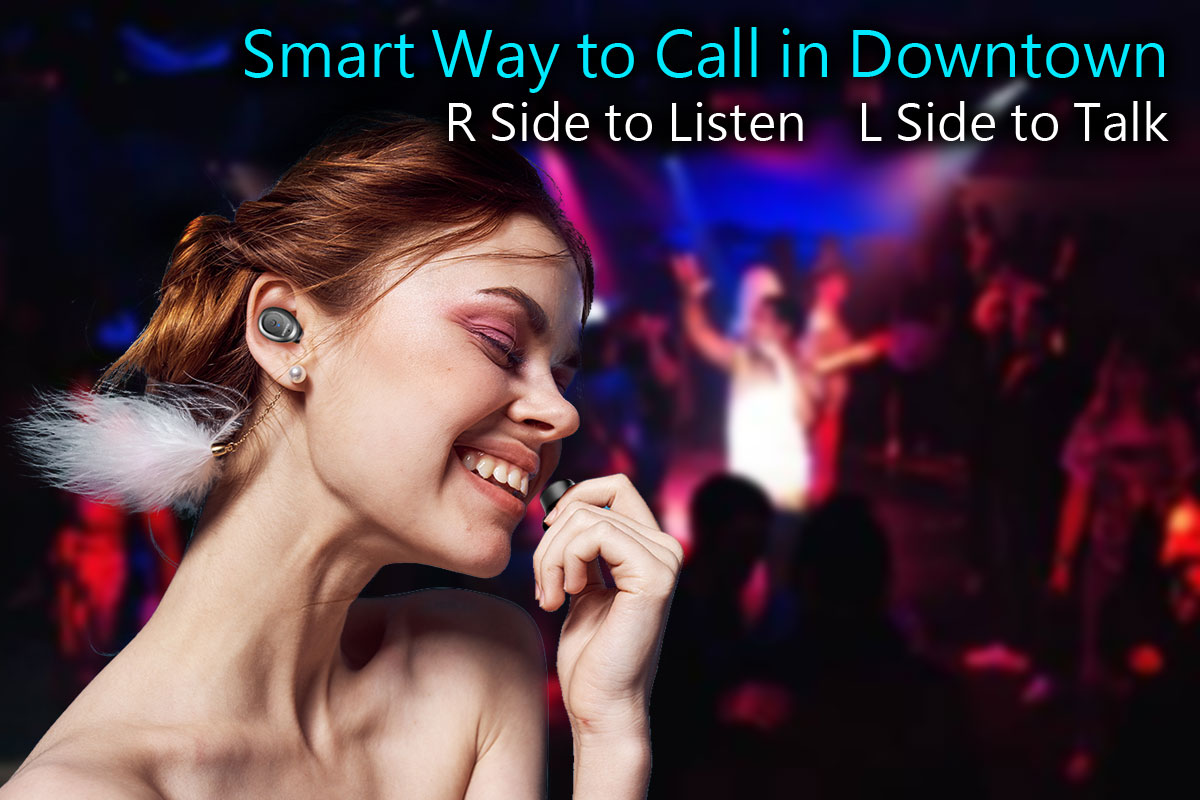 Stereo & Binaural Call

New Dimensional TWS Talk

Traditional TWS perform stereo music but they only enable mono phone call. Bonnaire mx-900 brings about a revolution by achieving both stereo music and call. Not only stereo call experience will be achieved, but also the call is much clearer than ever. In noisy place, you would wear R side at the ear, while L side to place at the mouth to experience a new way of TWS call.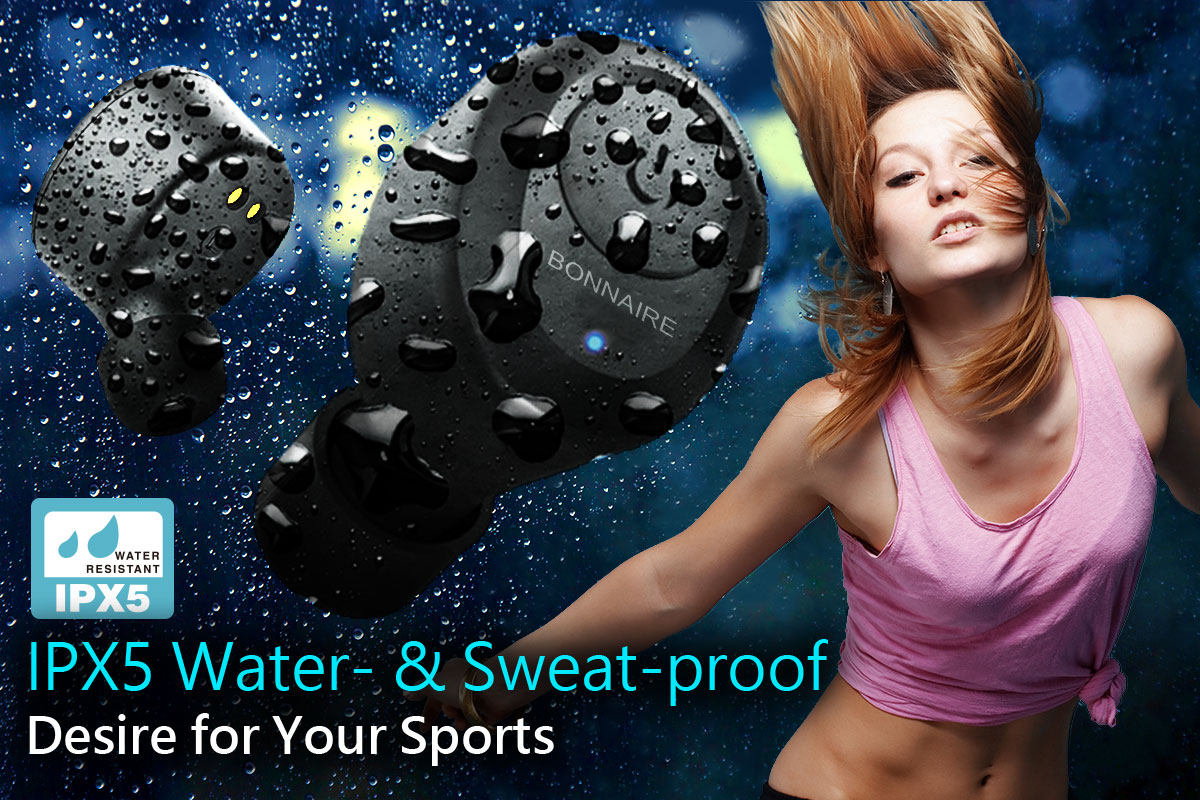 IPX5 Water- & Sweat-proof

Desire for Your Sports

During exercise, you will worry about sweat and water that will ruin your headphones. Bonnaire mx-900 has attained IPX54 water-proof and sweat-proof for peace of mind. It can also be rinsed with water4 which is really user friendly.
Exquisite and Lightweight

Just 4 grams

The burden of mx-900 is almost zero, making it comfortable to wear. This is especially ideal for doing sports.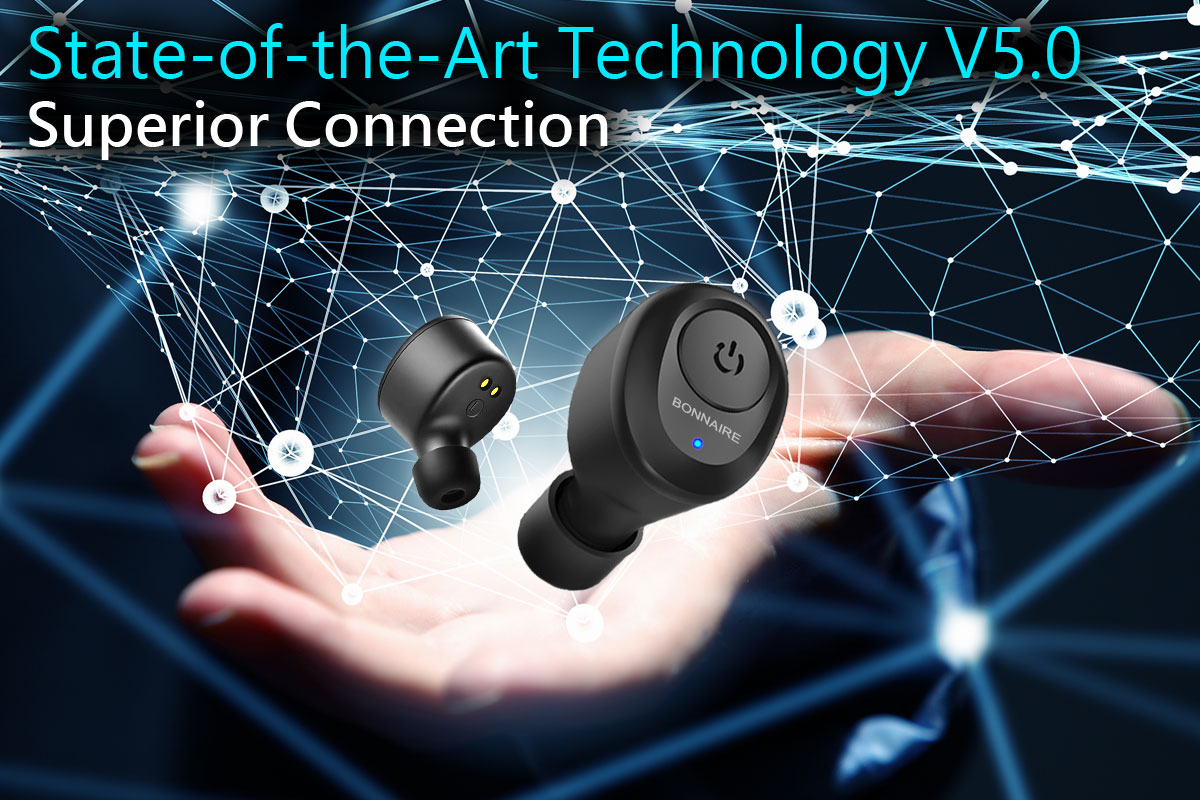 State-of-the-Art Technology Wireless V5.0

Superior Connection

mx-900 has adopted state-of-the-art technology bluetooth V5.0 which will significantly enhance the pairing stability, the transmission speed, and also power-saving.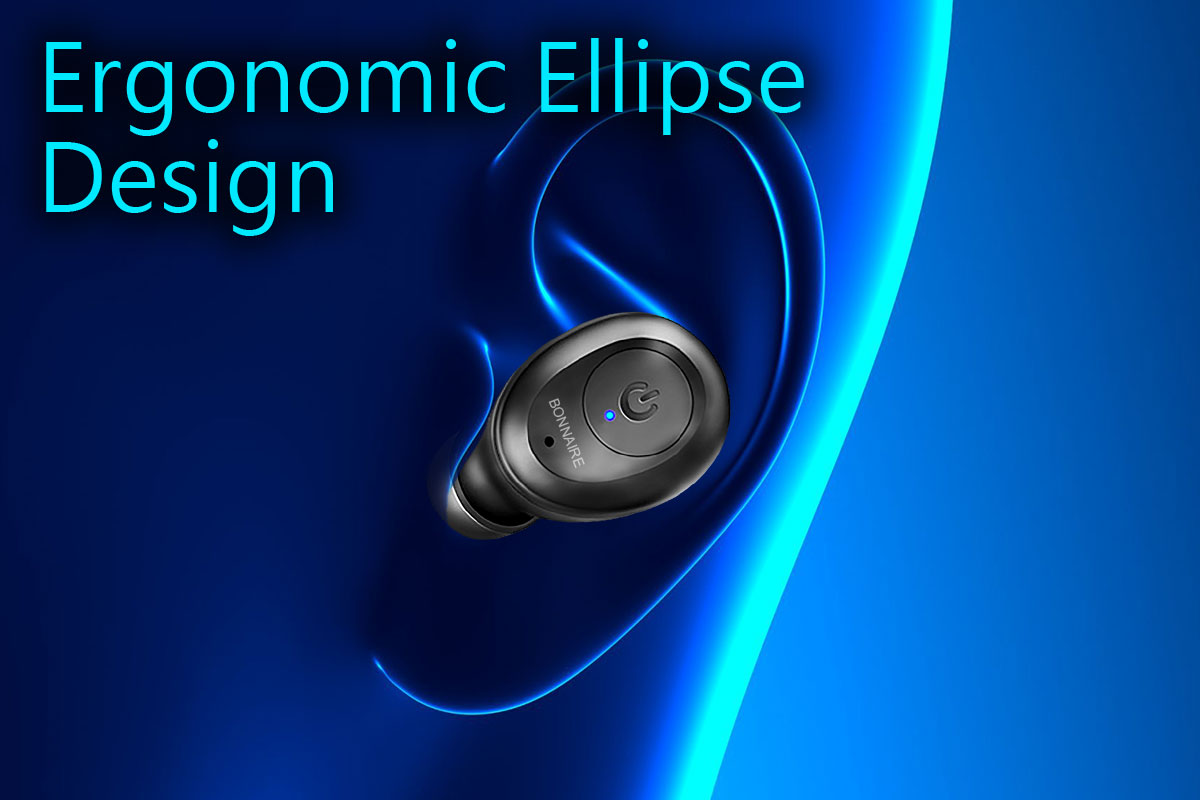 Ergonomic Ellipse Design

So Intimate & Comfortable

BONNAIRE mx-900 is ellipse shape that fits close to your ears for a secure and comfort fit. This shape also effectively reduces ambient noise from your great music.
Exquisite Power-Up Case

Night Sky Blue Colour Compact Carrying

Power-Up case of mx-900 is exquisitely designed. Not only to safely keep the earbuds, but also to refuel them whenever required. Its power capacity will provide two3 full charging for the earbuds. The night light blue color will also give you a moment of romance.
Bluetooth Version: 5.0
Supporting Profiles : AVRCP/A2DP/HFP/HSP
Frequency Spectrum: 20-20000Hz
Frequency Range: 2.40-2.48GHz
Operating Distance: 10M
Music / Talk Time3A: 6 hr. Stereo Sound
Standby Time3A: 40 hr.
Nominal Charging Time: 1.5 hr
Battery: Lithium Battery
Net Weight: @ 4g/ earbud
Microphone: On Both Earbuds
Phone Call: Mono/ Stereo Call